Product DNA

Experience third wave specialty coffee at home, made possible by the 4 keys formula
Our espresso machines are designed to use the right dose of freshly ground beans, ensure precise temperature control, optimal water pressure and create true microfoam milk essential for latte art. You're only a touch away from getting the 4 keys formula used by professional cafe machines.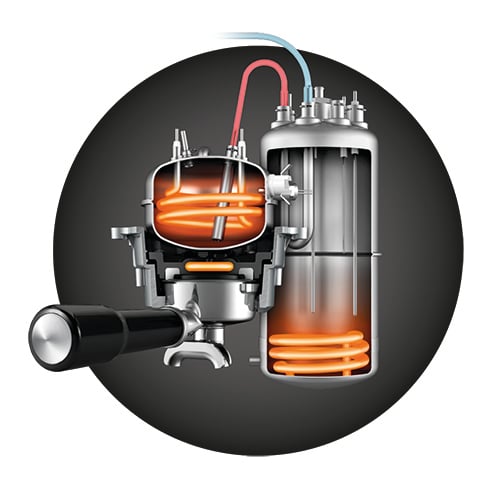 The Dual Boiler heating system delivers simultaneous extraction & steam and a heated group head
The stainless steel boilers and heated group head are controlled with PID temperature control to bring water to the precise temperature to extract maximum flavour potential, shot after shot.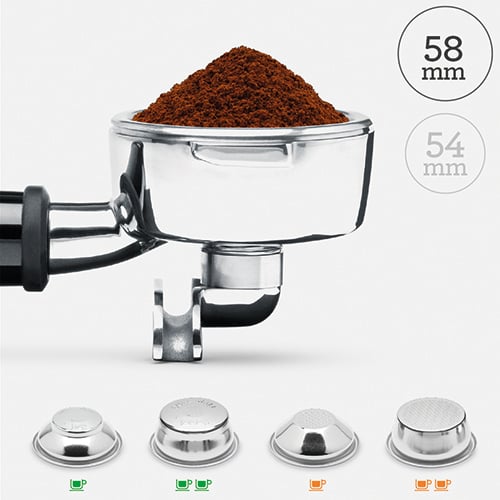 Professional 58 mm stainless steel portafilter holds a 22g dose with Dual & Single wall filter included
Full bodied coffee with rich and complex flavours is created using the ideal dose of 22g of freshly ground beans delivered by a professional style 58mm stainless steel portafilter.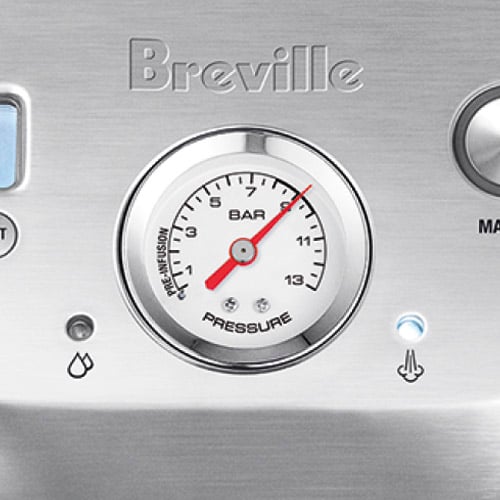 Low pressure pre-infusion followed by 9 bar extraction
An opulent, creamy and caramel coloured espresso starts with low pressure pre-infusions, followed by a high pressure (9 bar) extraction process delivered via our 15 bar Italian pump.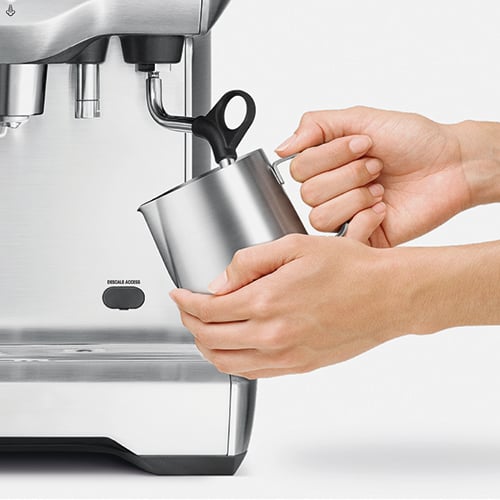 Manual hand-crafted microfoam
Our powerful steam wands are designed to quickly turn milk into smooth microfoam with a delicious silky texture, ready for pouring latte art.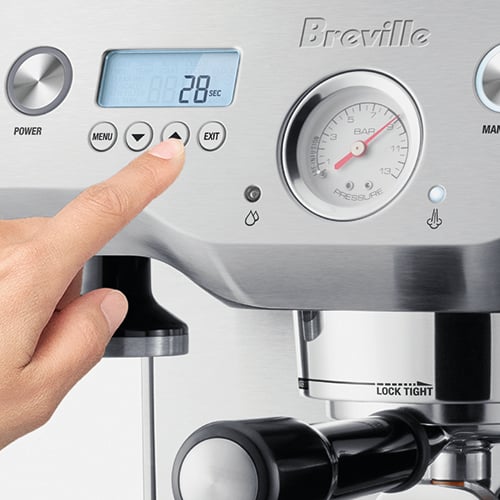 Get your perfect extraction with volumetric or timed shot control
Choose between 1 & 2 shot, or manual control over how much espresso ends up in your cup for the perfect shot every time.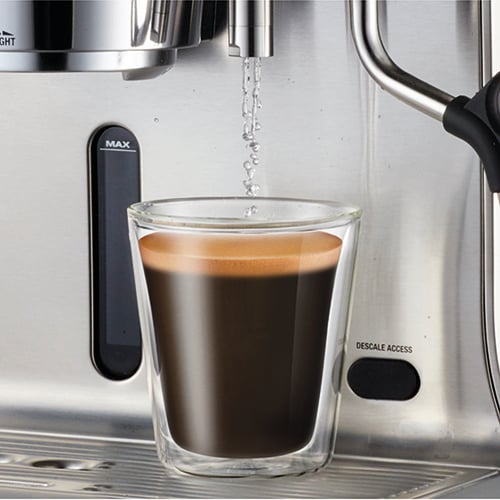 Intuitive LCD screen & Pressure gauge for precise control
Displays all the information you need to deliver the perfect espresso extraction.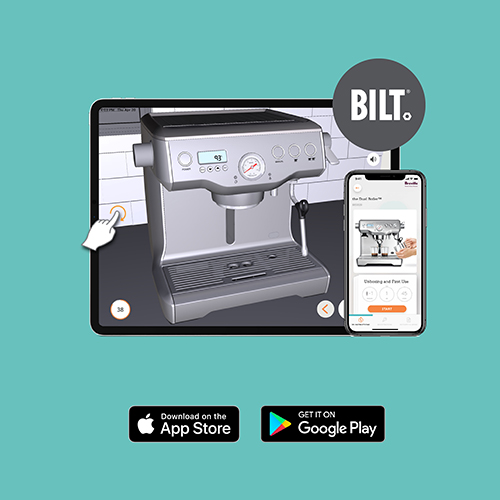 Easy step-by-step 3D interactive setup
If an instruction booklet isn't your thing, we've partnered with BILT® Intelligent Instructions for a seamless and interactive product setup. Download the free app to assist in making the best third wave specialty coffee from the get go.
Accessories
58mm Stainless Steel Portafilter

1cup & 2cup Single and Dual Wall Filter Baskets

480ml Stainless Steel Milk Jug

Water Hardness Test Strip

Water Filter Holder and Water Filter
Dimensions (WxDxH)
41cm (W) 37.5cm (D) 37.5cm (H)
Construction Materials
Brushed Stainless Steel Exterior

Stainless Steel Dual Boiler
Capacity
Settings
Power
Voltage
Warranty
2 Year Repair Warranty (or 3 Month Commercial Warranty)
Milk texturing
Powerful manual milk texturing
Brewing System
This commercial feature limits the maximum pressure throughout the extraction, preventing bitter flavors in the shot.

Dual 15 bar Italian made pumps allow simultaneous milk texturing and espresso extraction

1. Dedicated steam boiler with integrated Heat Exchange aids thermal stability

2. Dedicated espresso boiler with Digital PID control delivers precise water temperature

3. Heated group head–PID controlled embedded element maintains thermal stability
Shot Control
Espresso shot clock displays shot duration as a guide to extraction consistency
Interface
LCD Screen & Button control

Easily Customizable Settings
Portafilter
Commercial grade 58mm portafilter
Group Head
Heated Grouphead for brew temp control
Tamping
Manual removable magnetic tamper
Pressure gauge